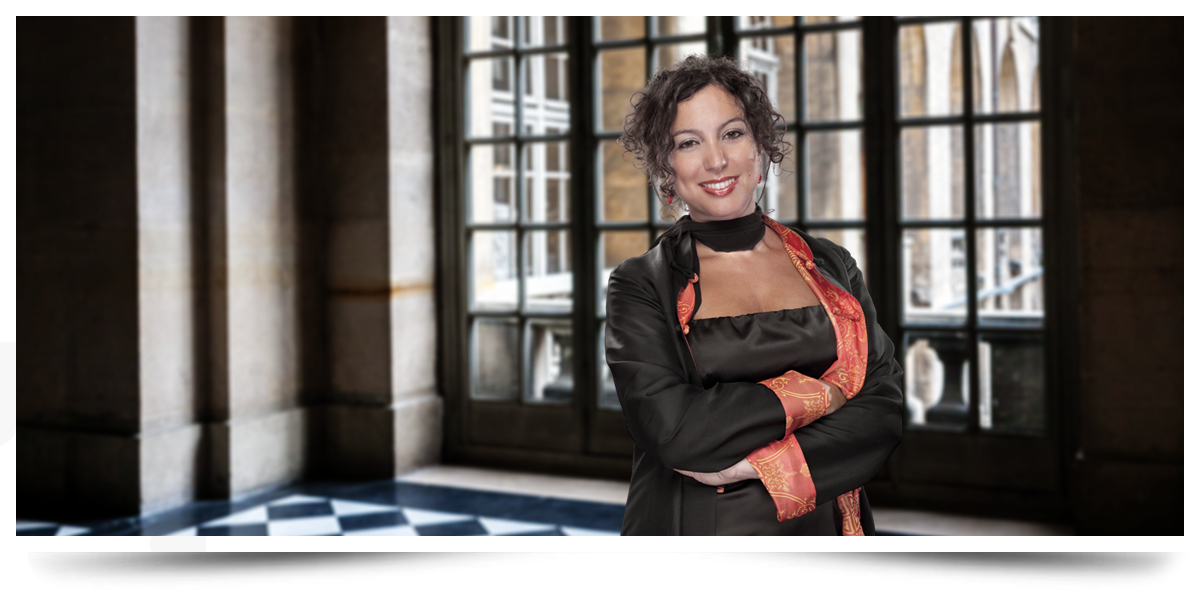 For listening to Anna Paradiso's recordings, visit: http://bis.se/performers/paradiso-anna/
"Absolute gem of a harpsichordist"; "it's not very often that a harpsichordist grabs my attention to such an extent that I pick up the booklet again just to see who this astonishing musician is and what background he or she has, but that was my reaction to the extraordinary Anna Paradiso" (Fanfare, USA) "she carries out an authentic baroque phrasing, making of every musical gesture a world in itself … she uses a fantastic rubato" (El Arte de la Fuga, Spain) "This is keyboard musicianship so superlative that I stopped the player after 20 minutes and immediately placed an order for the other volume. It's that attractive and expressive." (American Record Guide) "Masterly use of the clavichord" (Uppsala Nya Tidningar) "She was an happening in herself. With her body language that gave life to the music, she was the great memorable part of the concert" (Katrineholms Kuriren, Sweden)"She impressed us with her formal perfection and dynamic empathy" (Norrköping Tidn., Sweden)
CV
( For organizers: please, contact the artist for a CV, thank you ).
Born and raised in Bari (South of Italy), Sweden-based Anna Paradiso has within a short time established herself as a harpsichordist of great individuality and character, with concerts in many prestigious venues and festivals in Scandinavia as well as in England, Germany, France, Italy, Slovenia, Finland, Norway, Spain, the USA, Japan, Taiwan, Hong Kong and Lebanon. She performs also on clavichord, fortepiano, baroque organ and pianoforte. Anna studied at the conservatory in Bari, Italy, where she gained a solo diploma in piano (cum laude), studying with some of the most prominent Italian pianists living in her city, such as Emanuele Arciuli and Pasquale Iannone. At the same conservatory, she gained a solo diploma in harpsichord (full marks) and went on studying in numerous master-classes with Gordon Murray, professor at the conservatory in Vienna. Later on, Christophe Rousset (for French music) and Enrico Baiano (for Italian and 17th century music) provided important inspiration. She also received a Master in harpsichord at the Royal College of Music in Stockholm, in the class of Mayumi Kamata. Parallel to a musical education, Anna has also pursued an academic education at university level in Italian literature and classical languages, teaching Latin grammar and classical literature, among other institutions, at the University of Oxford. In recent years, however, Anna has dedicated herself entirely to a musical career as well as to a personal research into sources on thorough bass, historical fingerings and baroque performance practice, which have helped her to develop a distinguished style and touch.
As a soloist and continuo player, Anna Paradiso has appeared with many Scandinavian ensembles and orchestras (Drottningholm Baroque Ensemble, Copenhagen Soloists, Rebaroque, Drottnigholm Theatre Orchestra, Gävle Symphony Orchestra, Norrbotten NEO, Höör Barock, GSO Baroque (Gothenburg Symphony Orchestra Baroque), Norrköping Symphony Orchestra, 1B1, Ostrobothnian Chamber Orchestra, etc.). As a soloist, she has also performed with Philarmonia Moment Musical (Taipei), Hong Kong Sinfonietta, Birmingham Conservatory Orchestra and others. Her repertoire as soloist with orchestra spams from Bach's concertos to modern harpsichord concertos and contemporary works. With her husband, recorder-virtuoso Dan Laurin, she has formed a duo that tours internationally and has also recorded several CD-s for BIS, a label with which Anna records regularly also as a soloist. Her two CD-s of keyboard sonatas by Swedish baroque composer Johan Helmich Roman have received enthusiastic praises buy the international critics (just recently, vol. 2 was awarded the American Record Guide Critics Choice 2016). She has also been praised by the Swedish and international critics for her expressive clavichord performances in these recordings. For BIS and with Dan Laurin, she has recorded a program of 20th-century English sonatas, a CD of French baroque chamber music, Vivaldi recorder concertos; together with their their ensemble Paradiso Musicale, they recorded all flute sonatas by Roman, with international praises. Their acclaimed début recording [BIS-1895] – featuring music by Telemann and by J. S. and C. P. E. Bach – was chosen as Record of the Month by BBC Music Magazine. Her first solo CD – a recital with a wide repertoire from Frescobaldi till modern composer Walter Leigh – was recorded by Barn Cottage Records and received very positive reviews. For BIS she has also recorded a CD with the virtuosic harpsichord concerto BWV 1057 (praised by Gramophone UK) and orchestra music by Corelli and Telemann with the young ensemble Höör Barock, under the direction of Dan Laurin. Recently, she has recorded for BIS a contemporary harpsichord concerto by Vito Palumbo with Gävle Symphony orchestra and the first complete recording of JH Roman's Golovin Suite, with Dan Laurin as conductor and the orchestra Höör Barock. Next on the list, is a solo-CD for BIS with sonatas by Pier-Domenico Paradies, with harpsichord, clavichord and fortepiano.
Among other prominent musicians Anna has performed with, there are: Hidemi Suzuki, Nils-Erik Sparf, Maria Lindal, Stefan Temmingh, Mario Caroli, Lena-Susanne Norin, Lorenzo Cavasanti, Jan Björanger, Mario Caroli, Mikhail Symonian and, together with various symphony orchestras, Lisa Batiashvili, François Leleux, Lara St John, Jaime Martin, etc.
Anna has commissioned several new works, for instance from the Italian composer Vito Palumbo, whose work Nostos, written for her, was performed by Anna as a soloist in a tour with the ensemble Norrbotten NEO. Composers such as Daniel Börtz, Fredrick Österling, Ingvar Karkoff, Christofer Elgh and Kjell Meijering have also written for Anna and / or for her duo with Dan Laurin. Recently, she also performed in an acclaimed cross-over concert with the jazz-trio 'Trio-X of Sweden'. Anna Paradiso has taught in master-classes at the conservatories of Bolzano and Avellino, at the Royal College of Music in Stockholm, at Trinity College in London, at the Birmingham Conservatoire, at Grieg Academy in Bergen, at the conservatory of Beirut and at international courses in Europe, Japan and Taiwan. She also gives seminars and workshops around the world on the connections between classical rhetorics and baroque music, improvisation, ornamentation, etc.
Anna owns:
Neapolitan harpsichord by Masao Kimura (Zao 2012) after Onofrio Guarracino (c. 1650); French harpsichord by Francois Paul Ciocca (Riccia 2008) after Nicolas & Francois Blanchet (1730); original Swedish square piano by Mathias Petter Kraft (Stockholm 1797); original fortepiano Broadwood (1802); original square piano Rackwitz (1810); up-right piano Erard (1858).